Retirement and Estate Planning
The place where retirement and estate planning intersect is in many ways the heart of this website.
I say that because the ability to enjoy a nice retirement is one of the main reasons we engage in estate planning. Most of us spend 40 years or so working and saving and planning for the retirement of our dreams.

Yes, we know that good estate planning will benefit our heirs. But, we certainly hope it benefits us as well -- at some point. And, of course, that "point" is when we retire.

So, we are building pages that will discuss lots of things relating to retirement and estate planning. For instance, Retirement Planning and the Roth IRA discusses the topic of how your Roth IRA can be used for retirement (and estate) planning.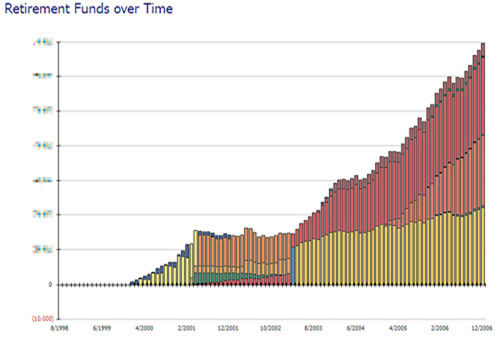 Retirement Funds over Time Graph. Thanks to RodBegbie at flickr.com for the picture.

Soon, we'll have other pages to discuss different financial planning for retirement ideas like the use of self-directed IRA's and other investments that can be used to fund your retirement.

One option you should consider is discussed at Best Low Cost Investment.

We recently discovered a website that explains how to live on Social Security and add $100-$200 a week to your income. It has helpful information about how to find employment, lower your bills, get the best prices, and obtain financial assistance -- while on Social Security. The site is written by someone who's actually done it. You can check it out at Living on Social Security.
Other Retirement and Estate Planning Articles::
---
From Retirement and Estate Planning to Estate Planning Hub | Estate Planning Blog | Basics of Estate Planning | Selecting a Financial Planner | Estate Planning and Taxes | Is This Good Time to Buy a House? | Incorporate My Business | Best Low Cost Investment | Fringe Benefit Plans | Estate Planning and Charitable Giving | Health Insurance Comparisons | Best Medicare Supplement Plan | Medicaid Questions | What is a Power of Attorney? | Current Estate Planning News | Estate Planning Forum | Living will in estate planning | Estate Planning Blogs | Estate Planning Books | Choosing an Estate Planning Attorney | Find a Probate Attorney | Estate Planning Questions |
---
Home Page

About Us | Contact Us | Site Search | Terms of Use
---