Estate Planning Blogs
Looking for the best estate planning blogs?

How many times have you had specific questions pertaining to estate planning but didn't know of a forum to ask? Well, we have our own estate planning forum and even a page where you can ask estate planning questions.


However, naturally we can't cover it all. So, you should know about some of the other top (high quality) estate planning blogs and/or websites. They are all maintained by professionals who know the estate planning business well.

michiganestateplanninglawyerblog.com
If you are Michigan State resident and are looking for knowledgable estate planning consultants then I highly recommend you check the attorneys at WitzkeBerry PLLC, a estate and business planning firm based out of Michigan. Partners Michael P. Witzke and Chistopher J. Berry share their insights on the michiganestateplanninglaw yerblog.com blog. The lawyers practice in four major areas; Michigan Estate Planning, Michigan Estate Administration and Michigan Business and Corporate law and Michigan Asset Protection.
They do conduct workshops from time to time that will be helpful for you to understand the nuances of Michigan Estate Planning. Head over to them and check out all the wonderful content they have to offer on the blog.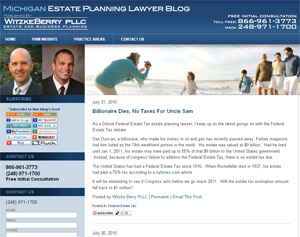 http://www.michiganestateplanninglawyerblog.com

floridaestateplanninglawyerblog.com

David M. Goldman runs this blog on Florida Estate Planning. He is equipped with decades of experience in setting up businesses and taking them to great heights. That combined with his knowledge about Florida law makes for an enviable concoction useful for anybody seeking help with Florida Estate Planning. Apart from estate planning he writes on many other legal topics including business law, elder law and Florida probate.
If you are looking for Florida Estate Planning information then feel free to spend some time on this blog. If you decide to get in touch with the folks running the business, then you may contact them through the address mentioned in the blog. One caution though, please do not use the contact form to convey any of your confidential information.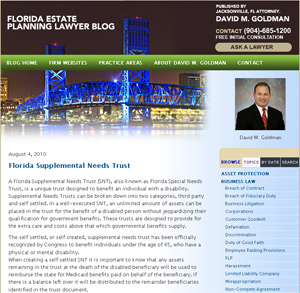 http://www.floridaestateplanninglawyerblog.com

estateplanninglawblawg.com

Everyday Estate Planning is one of the best estate planning blogs for people who fret over legal terminology and jargon, particularly when they try to understand the nuances of estate planning. The articles are written in plain English and are weaved in a way that you can relate to them. The author Liza Weiman Hanks writes on almost all imaginable aspects of Estate Planning in this blog. She has written informative articles about wills, estate taxes, and powers of attorney. Apart from that she also writes on trusts and probate court. No wonder the author graduated from the Stanford Law School, given her expertise in seeing things from an entirely different perspective. Have a look around for nuggets of information that will help you out with your estate planning.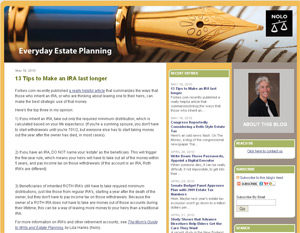 http://www.estateplanninglawblawg.com
ocestateplanningblog.com
The OC Estate Planning blog is owned by OC Wills and Trust Attorneys, that's in turn, is a part of Law Offices of Brian Chew. Brian does touch upon some of the major questions that individuals or families face when they go about planning their Estate. One of the major reasons why I like this blog in general and the professional in Brian Chew in particular is his efforts to build relationships with his customers by not only acting as their legal representative but being more like a guardian to protect their interests over a period of time. He stays in touch with his customers and gives them timely suggestions that could make or break their finances. Brian has exceptional credentials and an enviable list of professional affiliations. Whether you need professional help or generic information on Estate Planning, his blog is an invaluable asset.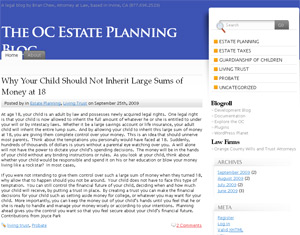 http://ocestateplanningblog.com

minnesotaestateplanningandprobate.blogspot.com

On the lookout for estate planning advice aligned to the laws of the State of Minnesota? This blog written by Jennifer Gumbel is an amazing source of information for all things Minnesota Estate Planning and Probate. Jennifer is an attorney licensed in Minnesota and Florida. Her focus is on Business Planning, Estate Planning, Real Estate and Probate. You will find a lot of good posts on the topics in this blog of hers.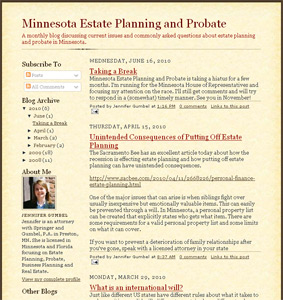 http://minnesotaestateplanningandprobate.blogspot.com

blogs.tldlaw.com/estate_planning

For all you California residents looking for legal assistance, this is a blog dedicated to answering all your questions related to the matter. Authors Jennifer N. Sawday and Monica Goel do an amazing job of simplifying the facts and packaging them in words that are easily understandable by regular folks. The authors are associates at Tredway, Lumsdaine & Doyle, LLP and among them they specialise in Estate Planning, Probate and Trust administration, related litigation matters. Check them out if you are looking forward to visiting any California Legal Professionals in the field.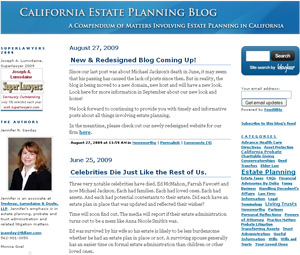 What's On Your Mind?

We'd love to hear your comments or opinions. Submit them here and other visitors can read them and comment on them. An e-mail address is not required.


What Other Visitors Have Said


Click below to see contributions from other visitors to this page...

Veterans Aid and Attendance Benefit Not rated yet
My dad was a POW in WWII. My mom was also a Veteran of WWII as a Navy Wave. When mom was not able to care for herself, she told me to go to the VA …
---
From Estate Planning Blogs to Estate Planning Hub | Estate Planning Blog | Basics of Estate Planning | Selecting a Financial Planner | Estate Planning and Taxes | Is This Good Time to Buy a House? | Incorporate My Business | Best Low Cost Investment | Fringe Benefit Plans | Estate Planning and Charitable Giving | Health Insurance Comparisons | Best Medicare Supplement Plan | Medicaid Questions | Retirement and Estate Planning | What is a Power of Attorney? | Current Estate Planning News | Estate Planning Forum | Estate Planning Books | Choosing an Estate Planning Attorney | Find a Probate Attorney | Estate Planning Questions |
---
Home Page

About Us | Contact Us | Site Search | Terms of Use
---